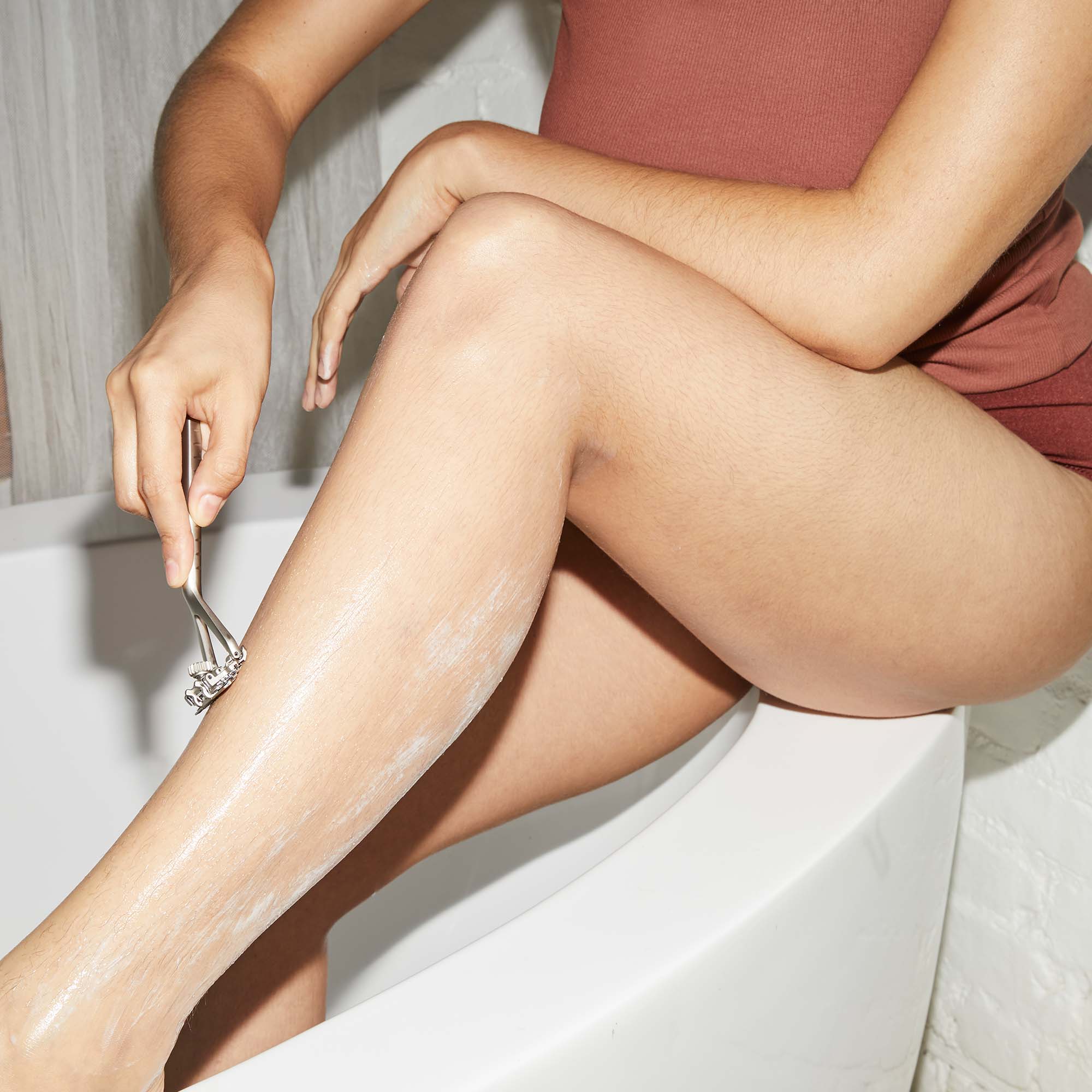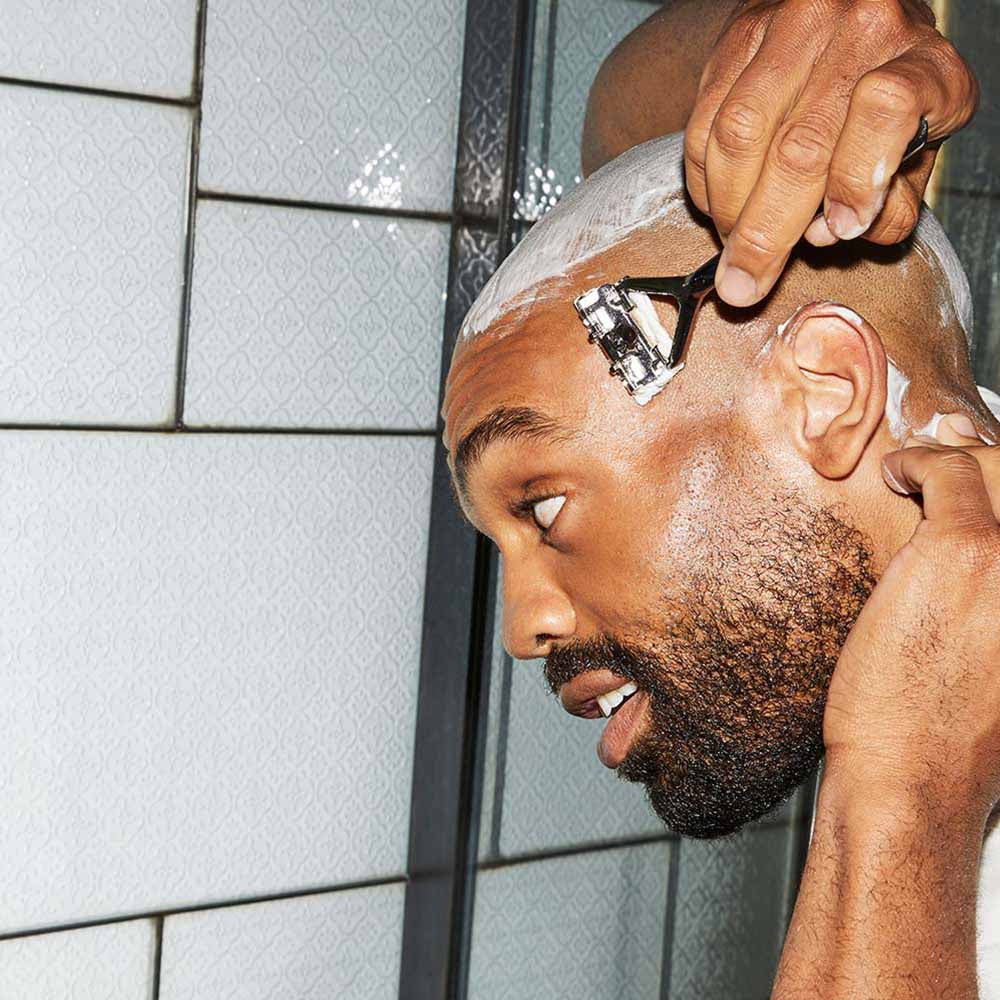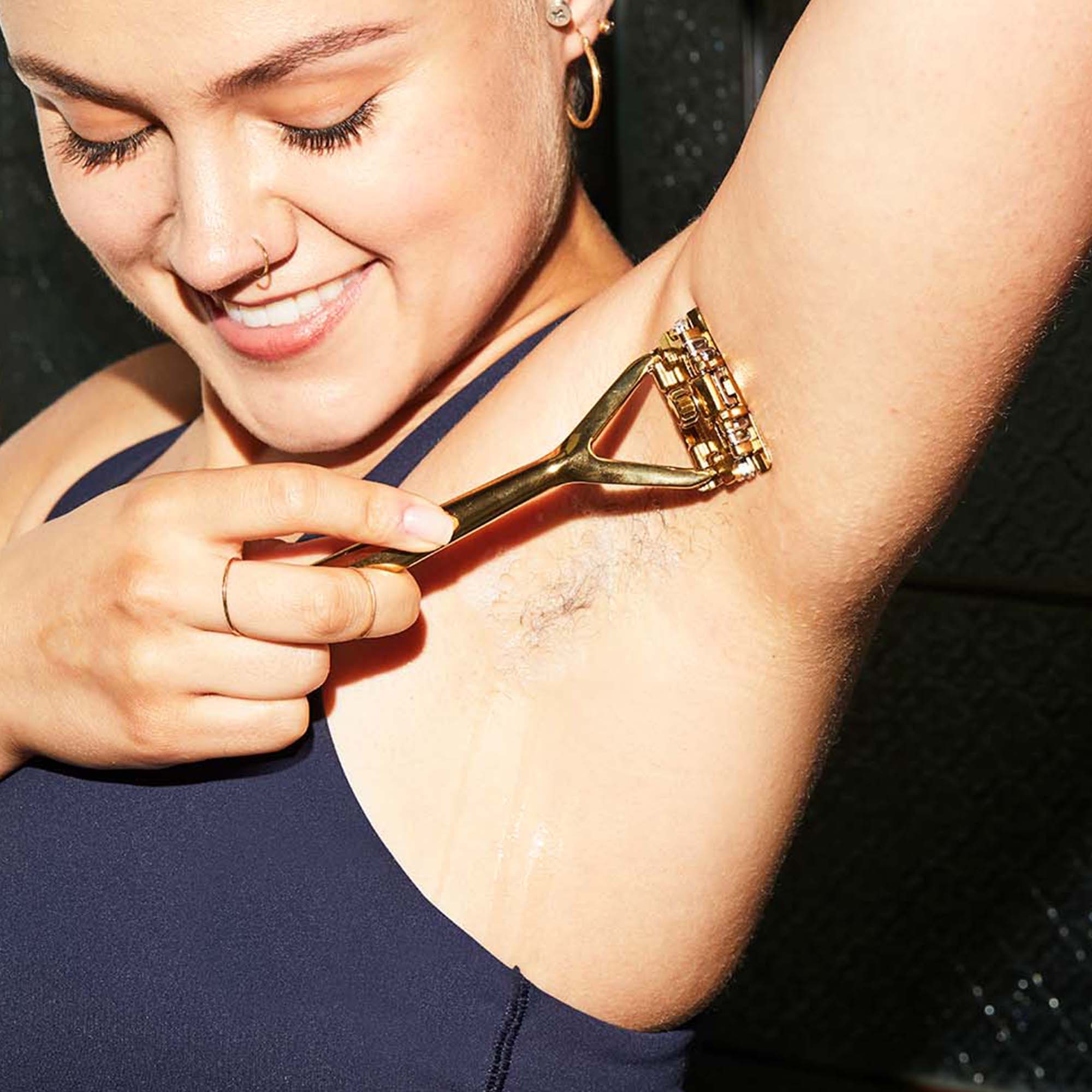 The Leaf Razor
Eco-friendly Leaf Razor, a triple-blade pivoting head plastic free shaving razor. Most loved by head, body, leg and underarm shavers for its wild efficiency. Face shaver? Check out our single-blade model.
We're designing the future of shaving, and that future is plastic-free, recyclable and refillable.
There is no razor like The Leaf. Refill with up to three blades, and follow all the countours with the unique pivoting head.

The Leaf razor is designed to shave just like the 5 blade cartridges you're used to. As close a shave. As easy a shave. As safe a shave. Except with none of the plastic-waste, and with refills that cost pennies.

✓ Triple-blade efficiency
✓ Pivoting head ease
✓ Magnetic Load Assist™
✓ Works with standard safety razor blades
✓ Adjusts to your needs (full-loaded for the closest shave, remove the bottom blade for more sensitive skin)

A long, balanced handle delivers control. And if you need extra support slide on our silicone sleeve for extra grip.

Your old razor will look and feel like a toy after switching. Welcome to the last razor you'll ever buy.
• The Leaf razor
• 10-blade starter pack

🌍 Plastic-Free Packaging
🌍 Carbon Neutral
Body Shaver? Yes. The Leaf razor is the most advanced plastic-free body shaving razor on Earth.

Head Shaver? Yes. If you're tired of wasting money on cartridges, and struggled to make a safety razor work for the dome, The Leaf will be a lifesaver.

Face Shaver? Many face shavers tend to gravitate more towards our single-edge razors because the head of the razor is very small. It is therefore easier to fit into tight places like under the nose.
Save with Bundles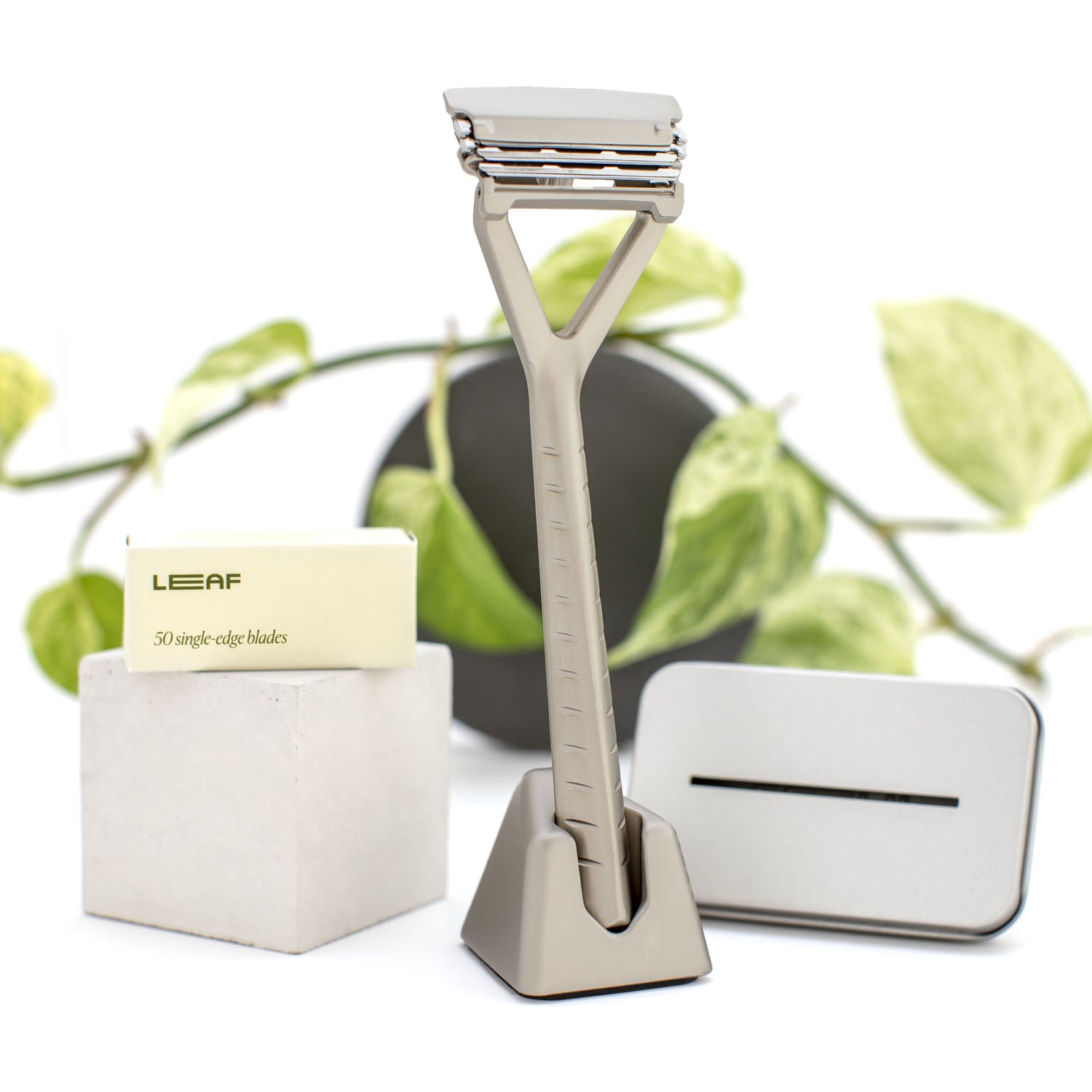 Starter Kit - $113
The Leaf razor, stand, 50-blade pack and recycling tin ($124 value)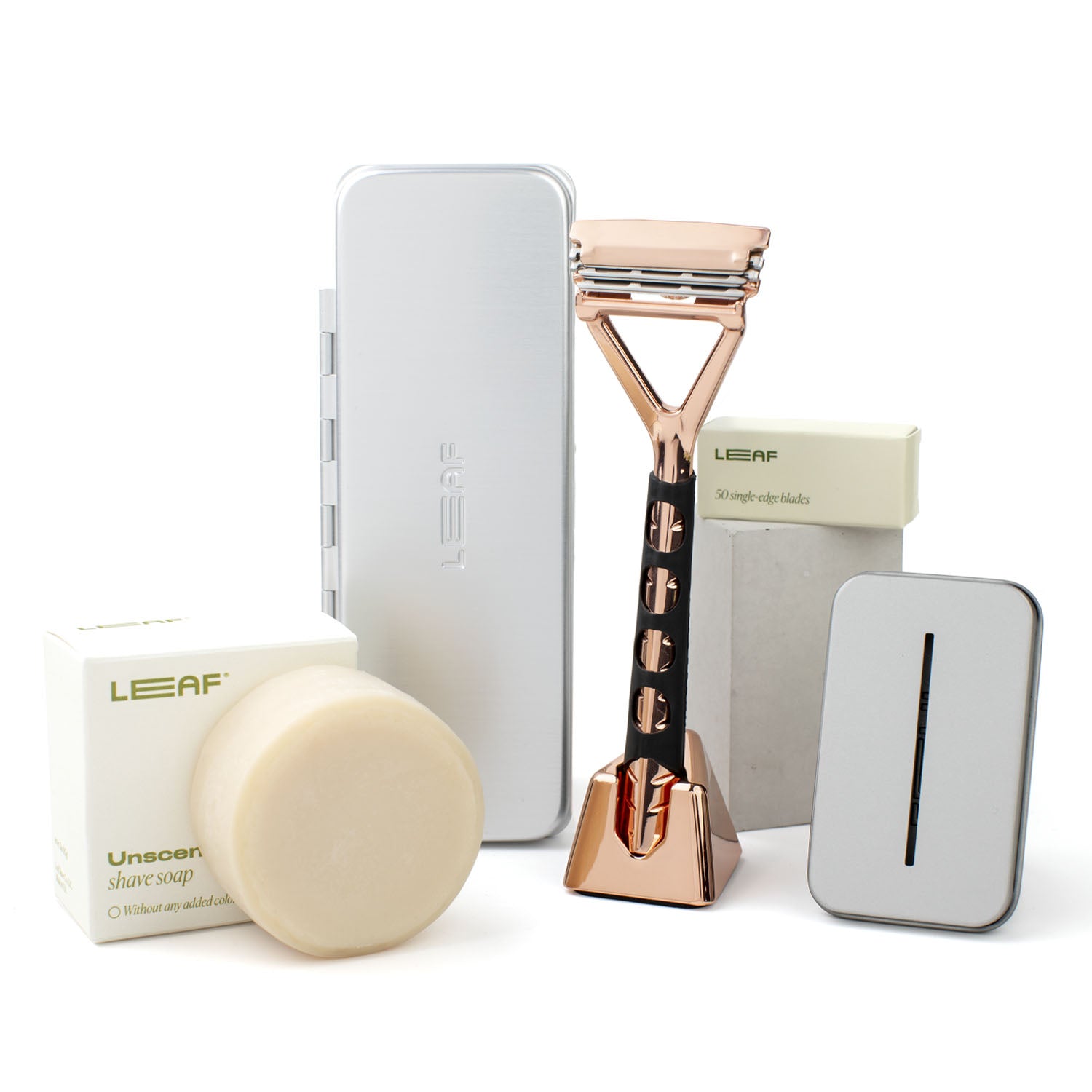 Super Bundle - $139
Leaf razor, stand, 50-blade pack, recycling tin, shave soap, grip, & case ($158 value)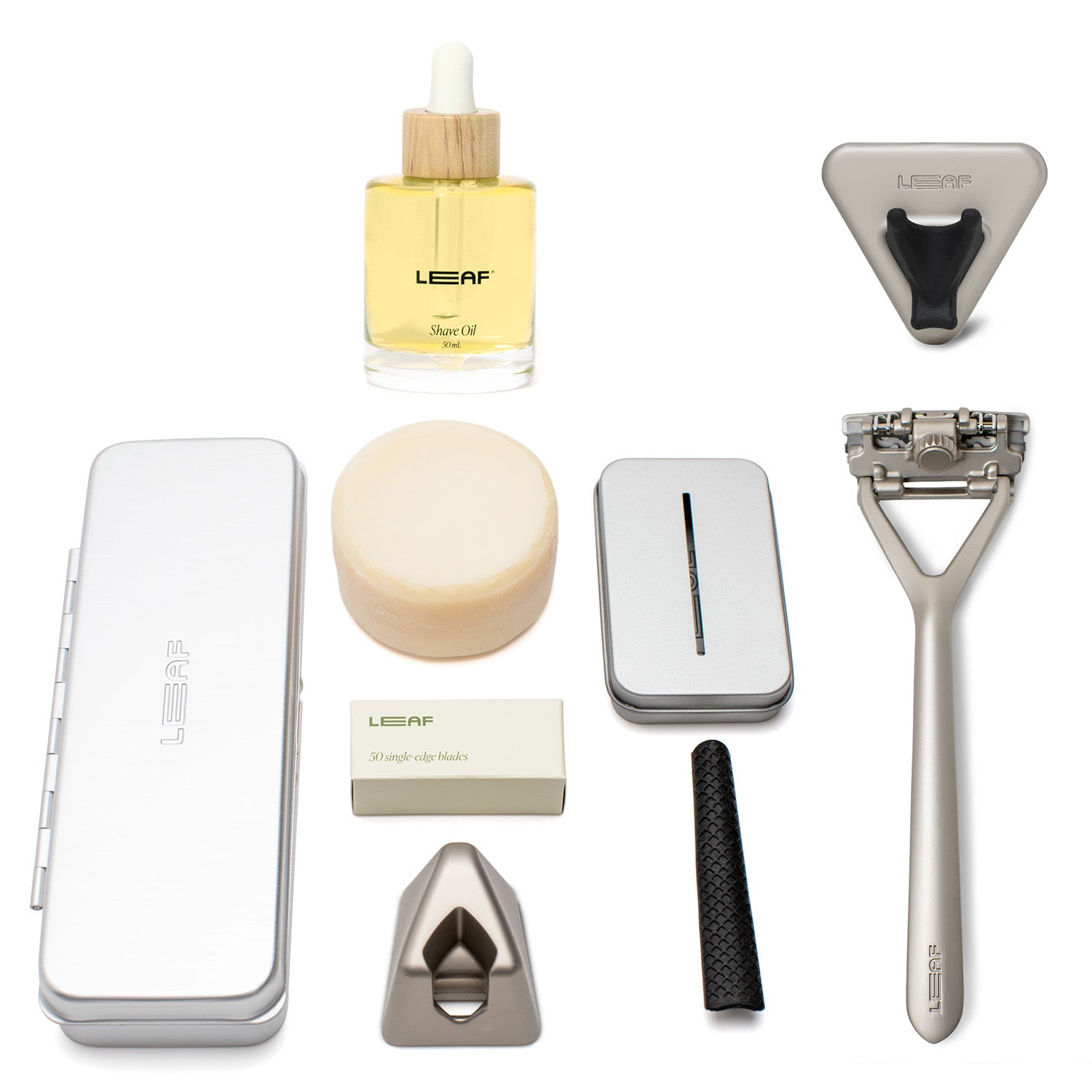 Everything Bundle - $175
Leaf razor, stand, 50-blade pack, recycling tin, shave soap, shave oil, grip, case, & shower holder ($196 value)
So good you'll find excuses to shave
Plastic-free & recyclable
Billions of plastic razors end up in landfill and oceans each year. Make the switch to Leaf and refill your razor with stainless steel blades (no plastic-housing needed!) and never toss a cartridge again.
If you've ever tried shaving with a standard safety razor, but stopped because you hated it or got nicked / cut too many times... you'll see an immediate difference when shaving with Leaf. We make shaving plastic-free more accessible by making it easier to get started and easier to stay.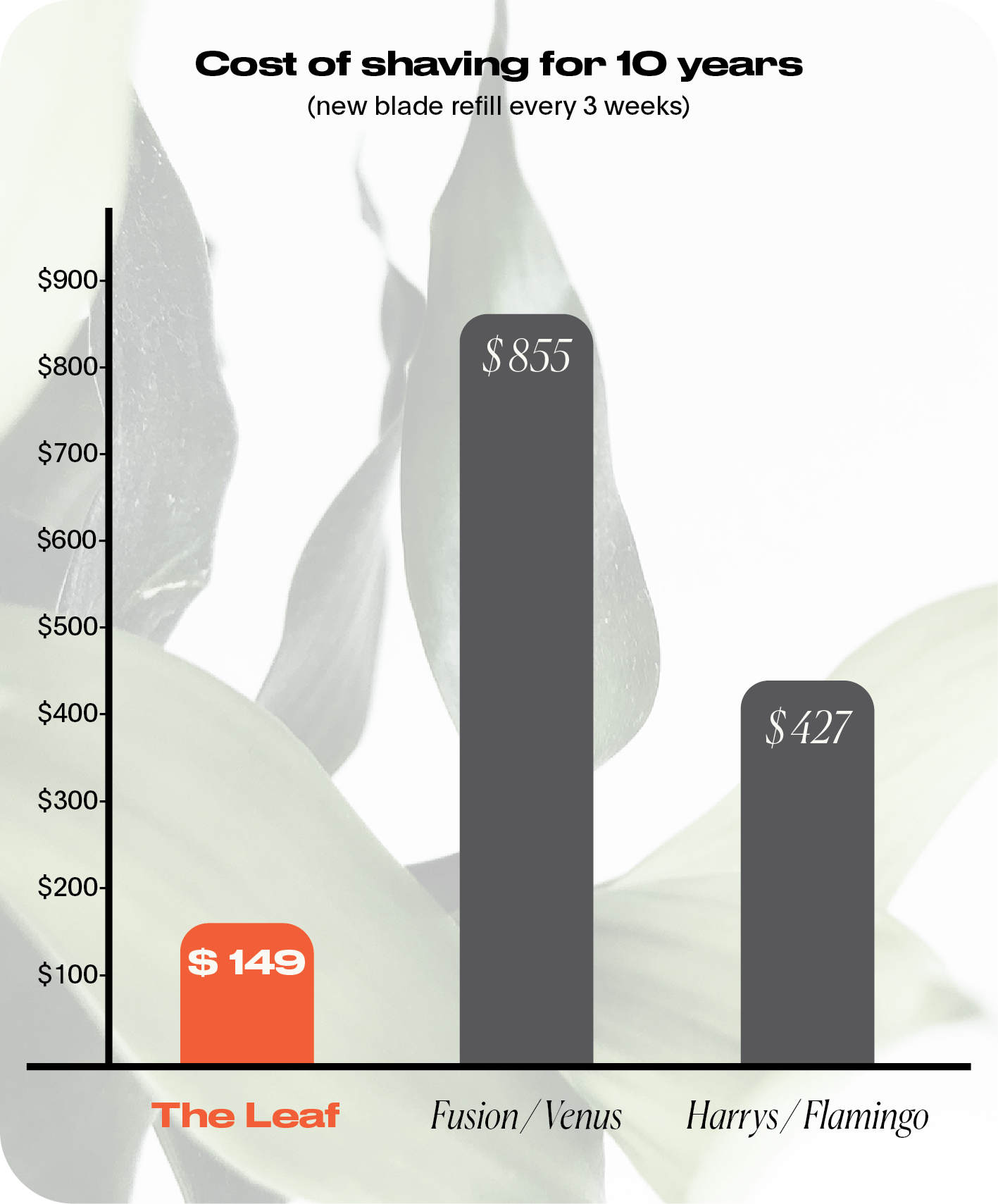 You will save $ over time
If you've ever spend $20 on a pack of 5 cartridges you'll realize how quickly shaving with Leaf will return the investment to you. Our refills start at $0.19 cents each, and you are not locked into using Leaf blades.
If the upfront cost is a lot for you, there are buy-now-pay-later options at checkout.
Unique 3-blade design
You can load 1, 2 or 3 blades into The Leaf razor to truly customize it to suit your needs. Want the closest shave? Load all 3. Want to dial things back? Remove the bottom blade. The stacked blades are spaced further apart than cartridges for an irritation-free, efficient shave.
Used to a 5-blade razor? We guarantee you will get as close if not a closer shave than your 5-blade razor, and it will be adjustable and comfortable.
The head pivots
We are the world leaders in modern plastic-free razor design. The best invention in shaving in the past 60 years was the pivoting head, but it was wasted on plastic razors.
The Leaf's pivoting head is the game-changer that the world has been waiting for. Shave confident, shave safely. Leaf Shave.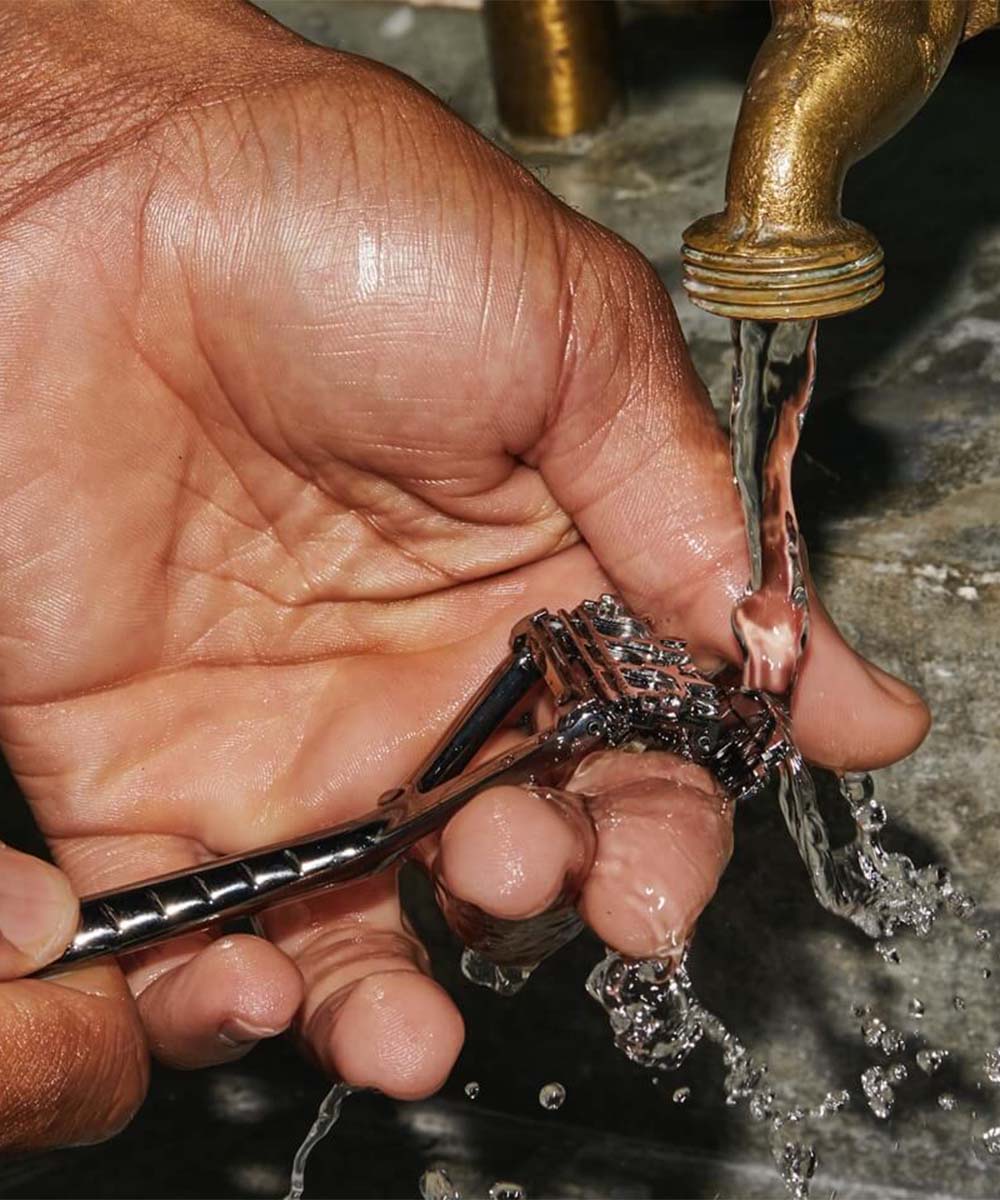 Use any blade, because we're not jerks
All of our razors are designed to be open, compatible with any standard safety razor blade. Leaf blades come as single-edges, ready to load right out of the wrapper.
Yet any double-edge blade can be snapped in half to yield two single-edges as well. This gives you the freedom to enjoy Leaf's blades or find one that suits you better.
This product is rated 4.8 of 5.0 stars.
It has received 3804 reviews.