An all-metal, face and head shaving cartridge killer. Perfectly tuned to safely tackle tough hair anywhere. 
It is a more aggressive version of our Twig razor with +0.2mm of blade gap.
"Immediately I noticed a huge difference when using this vs my Walmart safety razors and the best feature is the locking of the blade and magnet to hold it in place." - Eric from USA
⚠️ Warning, this razor is so good that you may never buy another razor again.

The Thorn Razor isn't any old safety razor, it's the closer-shaving cousin to Leaf Shave's Twig razor and it's built for your face. This thing is no joke, it'll handle a week's worth of the toughest hair and leave perfectly smooth and satisfied skin behind.

• Intuitive Angle™ Head mimics the ease of your plastic razors.
• A back-weighted handle means more control at the point of shave.
• Magnetic Load Assist™ tames even the shakiest of hands.
• Twist Body™ is an innovative loading mechanism that raises and lowers the head, keeping the razor in one piece.
• Compatible with any standard safety razor blade including DE blades.

All of this means you can shave without nicks, cuts, or irritation. Ingrown hairs are a thing of the past. 😤 Simply lather and shave and get on with your day.
• The Thorn razor, + 5-blade starter pack (1x)
• Matching stand
• Travel Case (reference picture for color)
• 50-Blade Pack
• Blade Recycling Tin
The Thorn razor is one of the most capable modern safety razors for face and head shaving. It's unique single-blade design, including the unibody twist-to-open mechanism and how we've engineered the blade to present to your skin, make it the ideal middle-ground between classic safety razors and disposable cartridges.
If you are looking to ditch the plastic and start shaving with a single-edge razor, The Thorn is for you. An open-blade systems means you can use any standard safety razor blade with The Thorn, you have more options than any other safety razor out there. That's truly freedom. If you currently shave with a DE razor and are looking for something different and exciting, you will LOVE The Thorn.
Looking for a milder single-blade razor for sensitive skin? Check out
The Twig Kit
.
Kits and Accessories
Pairs perfectly with: 3 Available
50-Blade Pack
$12
Shave Soap Bar
$9
Upgrade your shave
without a worry.
Free shipping

on all U.S. orders over $25.

30-day guarantee

to be sure you love it.

Lifetime warranty

on the last razor you'll ever buy.
See it in action.
Remove hair anywhere with The Twig, for a smoother, closer shave.
Welcome to The Thorn Kit
Here's what's included...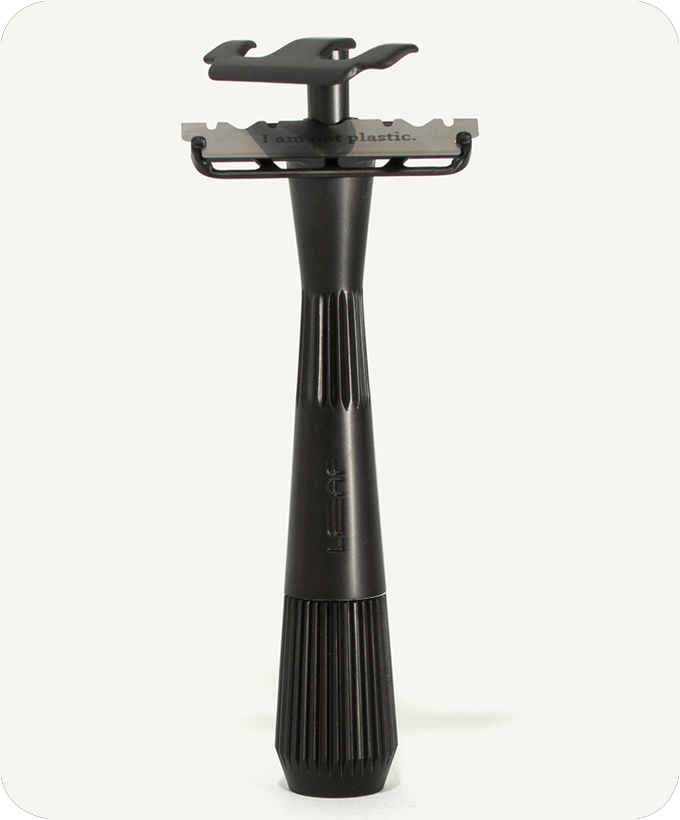 The Thorn Razor
What matters most? The shave. You need a safe, close shave that lasts. Yeah, you can make a moment out of it, but you can also step out of the shower, and take care of business so that you can get along with your day.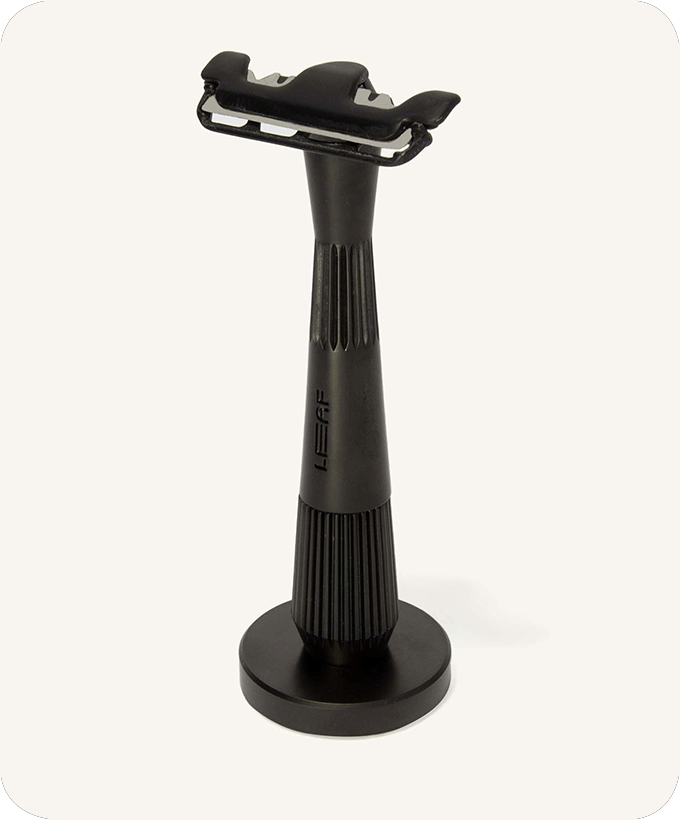 The Stand
Your Thorn Razor deserves to be out on your counter, it's a stunning piece of architecture. The Stand is a simple, effective way to keep your new razor in prime position.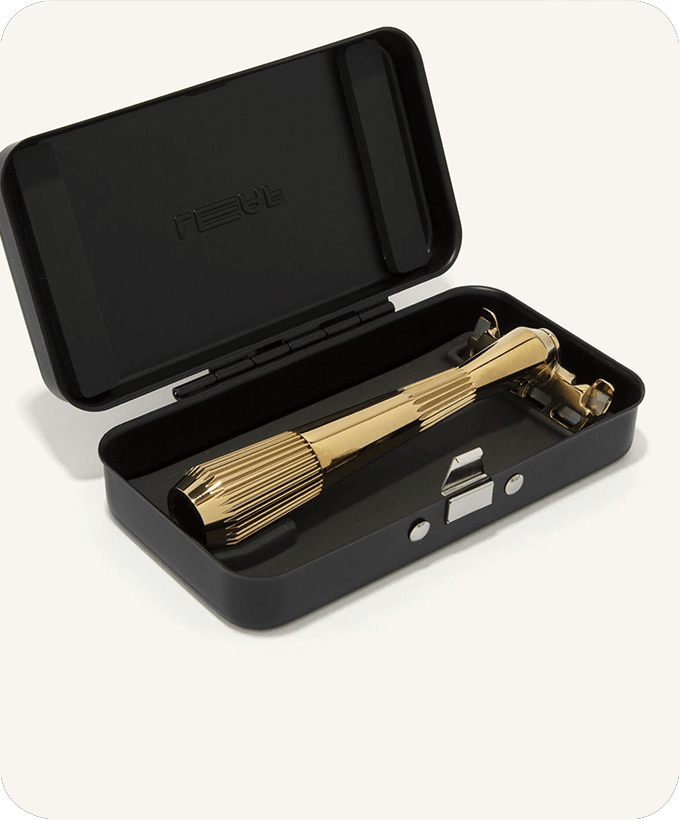 Travel Case
Whether you're hitting the road or just want a safe place to store your razor, The Travel Case is a custom hard-case with silicone molded insert to keep your new Thorn Razor in pristine condition when you're on the go. You can even fit a whole 50-pack of blades right next to it.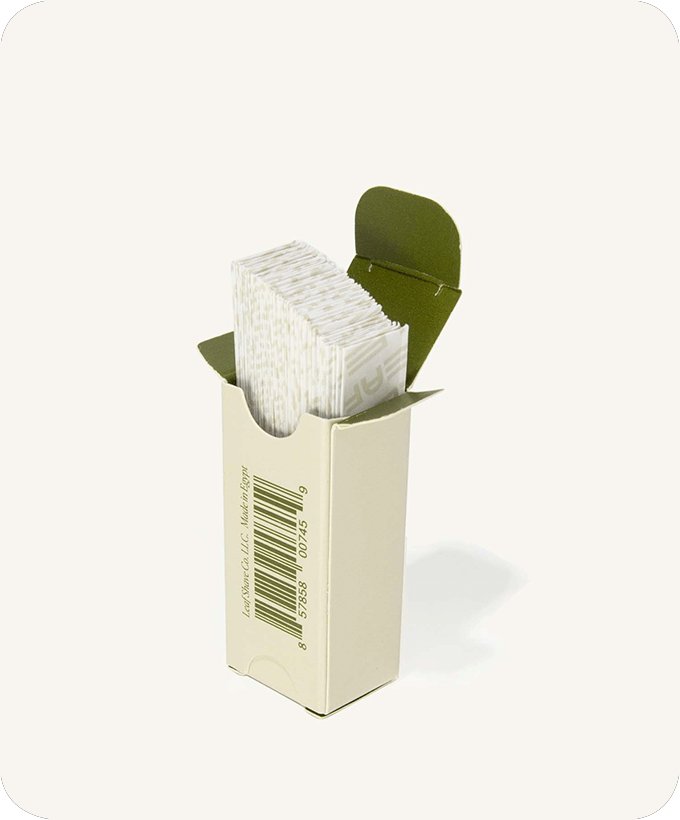 Blade Pack
Yes, you can use any standard safety razor blade with your new Thorn razor (single-edge or double-edge). You're probably going to love our Leaf Shave single-edge blades, which are ready to load right out of the wrapper. 50 of them fit in the same footprint as a single plastic-cartridge. Welcome to freedom in your shave.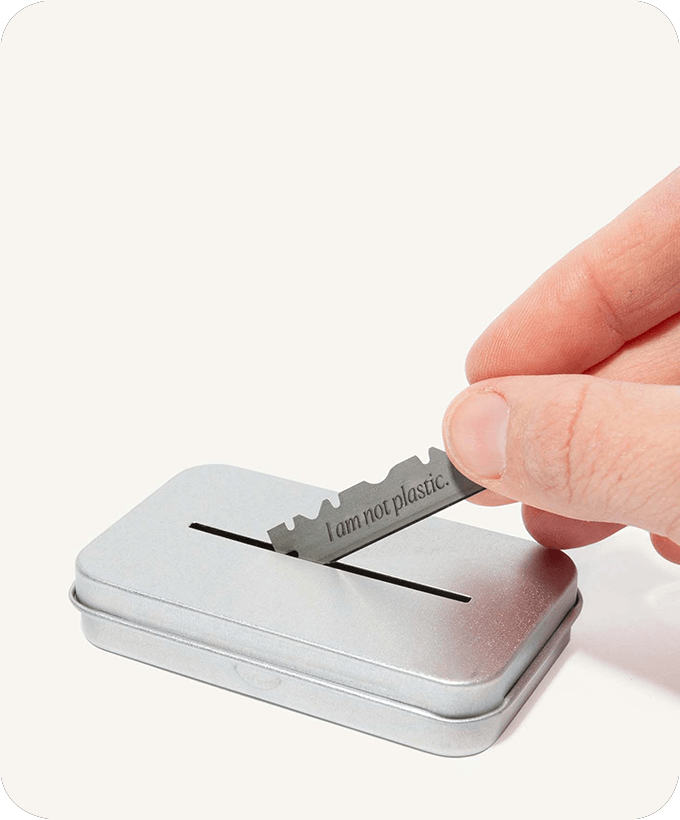 Recycling Tin
When you change your blades, typically every 5 to 10 shaves, you can store used blades in this simple, elegant tin container. Once it's full, you can dispose of, or recycle your used blades (you can send them back to Leaf to ensure they're recycled).
Customer Reviews
Don't take our word for it…