Enhance your leafy shave  
•  50 ml / 1.7 fl oz
"It feels great on the skin, gives a really nice glow, and I appreciate that there is no fragrance!"
Razor is coming. And like the Night's Watch this oil stands guard protecting your skin. This beautiful unscented blend softens hair and locks in moisture, while providing extra glide for your shave.

✓ Locks moisture in hair to reduce friction
✓ Hydrates without feeling oily
✓ Reduces visible signs of irritation
✓ Refills available without dropper to reduce waste

We're designing the future of shaving, and that future is plastic-free, recyclable and refillable.

HOW TO USE For enhanced glide during shaving apply a dropper to wet skin and hair and rub in before applying shave soap. After your shave, apply a dropper and rub into your skin for lasting hydration.
MATERIALS Glass bottle. Dropper is wood, glass and rubber. Refill cap is aluminum.
END OF LIFE Clean and recycle or re-purpose the glass bottle when done, save the dropper for the refill bottle and recycle aluminum cap.
• Shave Oil bottle (50mL / 1.7 fl oz)
• Choose the
Dropper
for your first purchase, and the
Cap
version for refills
• 🌍 Plastic-Free Shipping Packaging
• 🌍 Carbon Neutral (we offset our footprint 100%)
Our Shave Oil is suitable for any part of your body, especially areas with extra sensitivity. In fact, users report visible reduction in irritation and ingrown hairs when grooming bikini lines.

Please note: because oil is hydrophobic, you may find more hair sticking around in the razor after your shave, please rinse thoroughly after use.
• SUNFLOWER OIL (Fortifies skin and hydrates)
• GRAPESEED OIL (Encourages skin to retain moisture)
• JOJOBA OIL (Moisturizes and soothes skin)
• SWEET ALMOND OIL (Delivers vitamin A, E, zinc and omega fatty acids)
• ROSEHIP OIL (Reduces inflammation and hyperpigmentation, and calms skin)
• VITAMIN E (Antioxidant, fights inflammation, and moisturizes)
Kits and Accessories
Pairs well with: 3 Available
Shave Soap Bar
$9
The Leaf Razor
$84

•

Gold
50-Blade Pack
$12
Use before, during, or after shaving,
to enhance shave experience and reduce visible signs of irritation.
Locks in moisture

Keeps hair & skin hydrated while shaving

Balanced formulation

For normal, dry, oily and combination skin

Your razor will glide

Feel pleased with how smooth your shave can be
Better Together.
Elevate your shave and celebrate your skin.
Leaf Shave Oil
Have you ever used a shave oil before?
This unscented well-balanced formula is the best way to enhance your shaving experience. Use during and after your shave for the best results.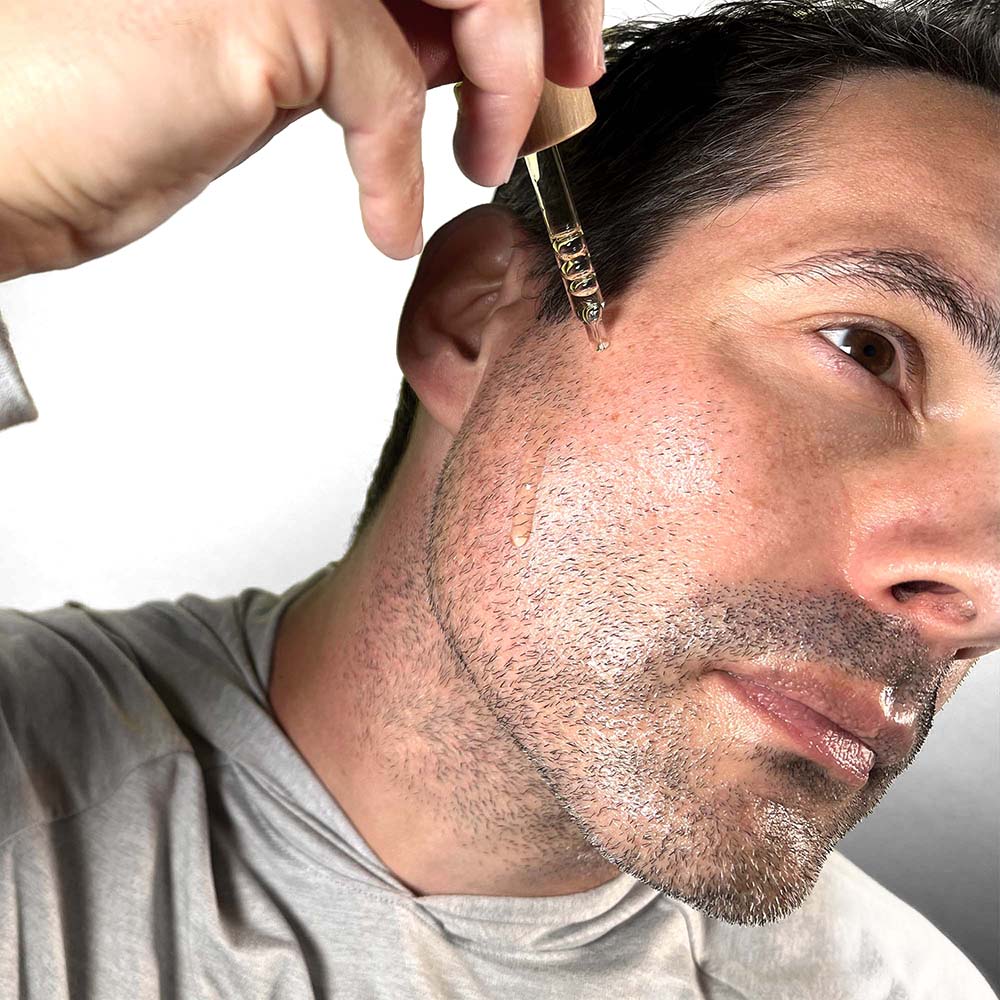 Hair Hydration Matters
Hair takes 2-3 minutes to hydrate and a fraction of that time for the water to dissipate. Applying oil after hydrating your hair locks that moisture in, making the hair soft and easier to shave.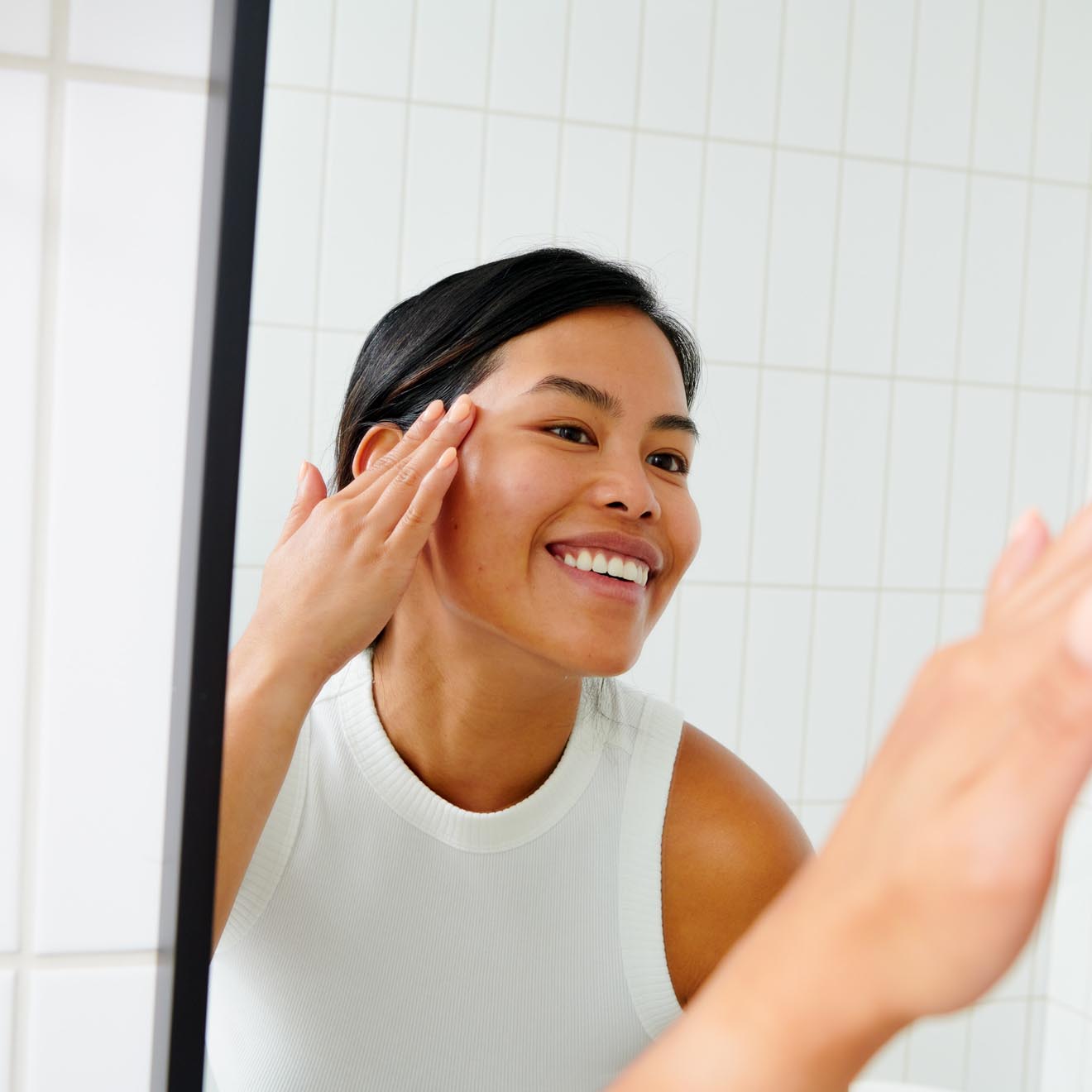 The Skin You're In
Shaving and dermaplaning both removes hair and exfoliates skin, so you want to keep your skin happy and healthy after shaving instead of dry and angry. Apply Shave Oil generously post-shave and enjoy long lasting protection.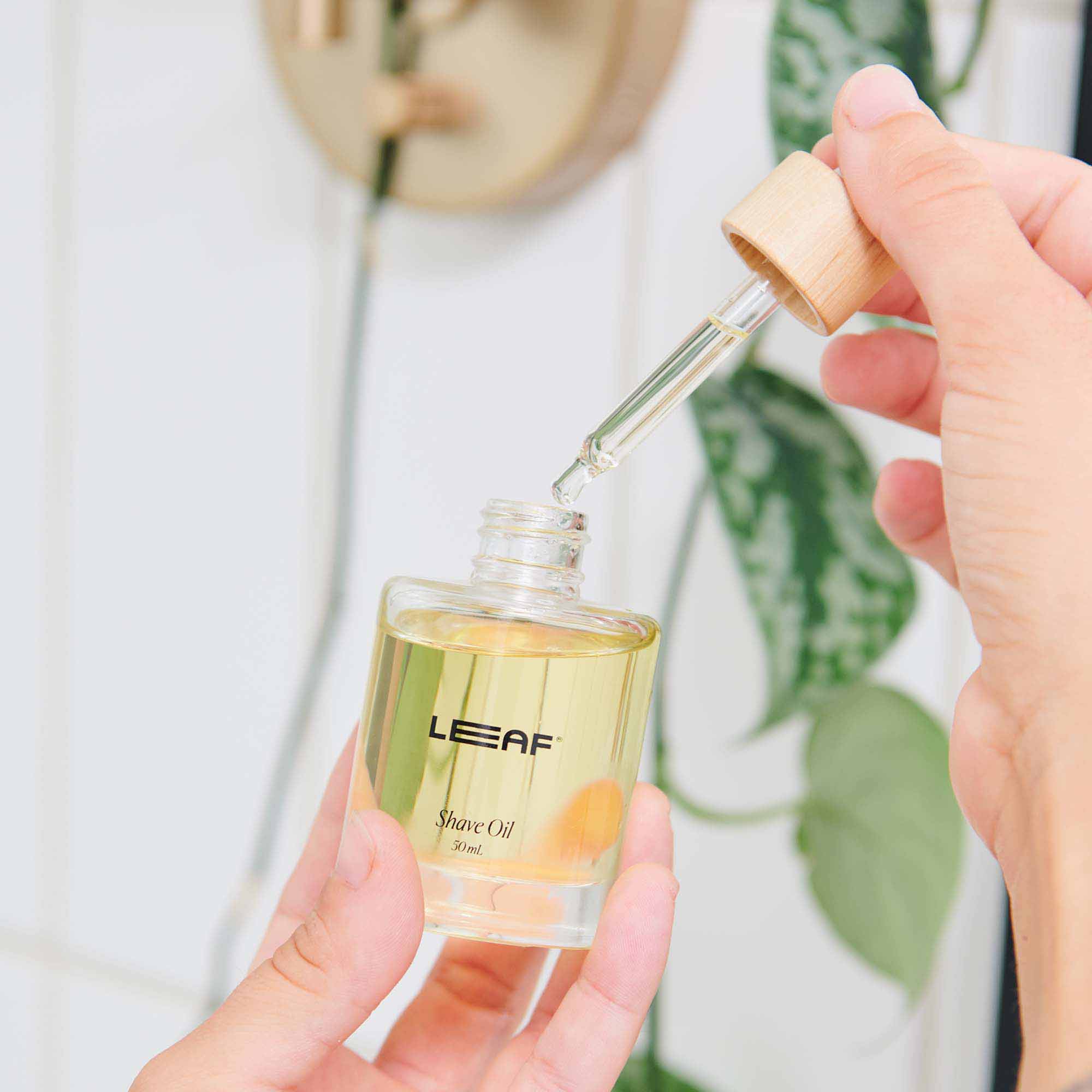 Thoughtful Materials
Keep your dropper and re-use it with the capped refill bottle to save money and reduce waste. This is the BEST dropper you've ever had, full wooden cap (not a veneer) and a well-dip at the bottom of the glass ensures not a drop is wasted.
Customer Reviews
Don't take our word for it…